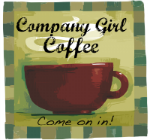 I went for over a month without blogging. I didn't intend to, but I kept feeling the need to get "caught up" on life before I spent my time writing. Well, guess what? I'm not caught up. Oh well, I figure if I wait for that, I'll be waiting a while.
Life has been full lately. In fact, I've decided to ease back in to blogging--with newsy little posts talking about what I've been up. I'm calling them "Life Lately". You can read about
my life as a porcupine
, and
my attempt at nester-like window mis-treatments
. There are more of these riveting posts to come. :0)
Today, I'm just talking about today. It's Friday and I'm catching up with the
Company Girls
. My day-off Friday agenda includes another visit to my needle-weilding PT, helping my mom get ready for a baby shower she is hosting tomorrow, picking up Bubba from school, accompanying Dave to his latest back procedure, and caring for Pickle who is home with a migraine.
And after a sunny week, today we woke up to fog and frost and snow flurries. GRAY. But pretty in it's own way.
this is actually a picture of two trees in our yard--if you look closely, you'll see that Dave unintentionally lined the trees up, and some of the branches belong to the one way closer to the curb. :)

my frosted-on-one-side bush
For those of you following along, Dave's back procedure today is the latest idea the latest doctor wants him to pursue. He will be getting the nerves that give him the most trouble deadened/killed. I guess the nerves will grow back in several months, but the hope is they will grow back happy. (I obviously don't really understand). Today is just the first step, where anesthetic is shot into the specific place to determine if indeed they got the right spot. He will be sedated--so I will be with him. If you are a pray-er, please pray that they get it right and that he finds some relief. In prep for these procedures he can't take his pain meds for 5 days--so it's been a rough week.
Well, bloggies, it's time to bundle up and get out the door with plenty of time to take it slow on the slick roads. My mood today is not gray like the outdoors--I'm looking forward to seeing what God has in store for this day. Each day is an adventure as I walk with Him.
*
**Update 6:40 pm. Dave did fine at his procedure--however, the results weren't great. It was diagnostic to see if they killed the nerves there, would it help. We were to know right away in the recovery room. He had no relief. SO, we are back to the drawing board. Boo.