Catching up with the
Company Girls
today, a little late this week, but here I am.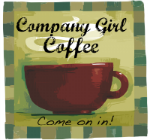 Pretty
. Last weekend was homecoming and Pickle went to her first high school dance. Ohmy. Look at
my pretty girl
.
Meaningful
. Yesterday was the anniversary of Aidan's death. God is gracious and faithful to heal broken hearts. I posted about
being scarred but whole
.
Gross.
OK, I can't believe I'm telling you about this, but it has been a significant part of the week over here at our house. On Wednesday, as the lawn guy fiddled in my garage with the sprinkler system programmer thingy...I looked at the floor of the garage and saw a little white wormy thing crawling on the floor. I stepped on it. I didn't like him. Then I noticed he was not alone...the floor was
covered
in the little suckers...all making a mass exodus from the garbage can area toward the outside. Lawn-guy told me they were maggots. Excuse me?? Maggots?? He thought maybe a mouse had died somewhere and they were coming from there. Gross. Or maybe they were from the trash. Gross. I left for work and hoped when I returned they would be gone. Nope--although there were less of them, and hubby thought perhaps I had exaggerated when I described them earlier. Then he lifted the trash lid and found--HUNDREDS--of them all crawling all over each other and the trash. G.R.O.S.S!!!! I will spare you the detailed description. Suffice it to say a strong stomach was in order. I am thankful to report we have killed the majority of the floor crawlers, and the others went out with the trash today. But the skin-crawling feeling might hang around a while...
Here's a pic of a few parading through the crack in our floor...
charming little creatures, aren't they?
Fun.
Can't end on the maggot note... Today I got to meet a blog-friend in real life!
Meredith
and I met at Panera and talked for hours. She is every bit as wonderful as I thought she'd be. Thanks for a great time, Meredith!