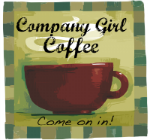 Well bloggies--can we just say that it's crazy insane these days! I can't really even blame it on Christmas like it's so easy to do this time of year--cause this week has had very little Christmas prep in it for me. (does thinking about it count??) All I can manage for my
weekly company girls post
is a list...that's the only way my brain can organize it's thoughts right now.
1)
This Sunday is
my talk/sermon
on Christmas from Mary's perspective, so that has been a focus of my week. (well, in theory, not so much in practice...it's been squished out of my days for the most part.) I finished writing my thoughts on Tuesday (thanks for praying!!) and now just need to learn it so I can present it as Mary without notes. (keep praying!) I am definitely looking forward to it...but in all honesty, bloggies...I'm looking forward to Sunday afternoon when it's over even more. :0)
2)
Oh the
weather outside is frightful
! Below zero wind chills all week--snow days and delayed starts--and all of us so bundled up that getting in and out of the car seems difficult. We are supposed to be above freezing today--so thankful the cold streak is over!!
3)
This has been a
rough week for Pickle
. She has been experiencing stomach pain on and off since last Friday. It goes away, so we think it's over, just to have it return. It was the worst in the mornings before school--which made us think it was emotional or that she was avoiding something. She didn't think she was..but we were getting pretty suspicious of her, which didn't feel good. We tried everything. I finally took her to the doctor yesterday morning who was able to have a clear diagnosis of reflux. So she is on a bland diet and meds for 6 weeks (no chocolate at Christmas--boohoo) and hopefully that will take care of it. We are so relieved to have a diagnosis, cause it has been emotionally draining and confusing for all of us...and hard to see her doubled over in pain. Another rough morning today...can't wait til the meds start kicking in and this ordeal is over.
4)
Tonight and tomorrow night we have a
dessert theater
at our church and my kids both have small parts. Hubby is on the sound board. It's a fun night of comedy sketches and drama...and we always enjoy it. The church is transformed and it's great fun. However...getting to that point has been a push, with Pickle's pain and Hubby's work deadlines, and cancelled rehearsals due to weather. On top of that we lost a dear woman from our church and her funeral is today...so we need to transform the church from funeral to dessert theater in record time. Normally, there is a group that spends several days over the week working on it. We'll do it--but I'll be relieved when it's set up, looking good, and my kiddos remember their lines!
5)
If you saw
my post on Tuesday
--you know I had
tire issues
this week. We haven't had a chance to get it fixed, so I am driving around on snowy roads on the donut, with the real tire banging around in the back of my car. Look forward to getting that fixed this weekend and putting that whole thing behind me.
6)
My dear
hubby has been under serious stress
at work--and he carries that stress around with him all of the time. The reasons for the stress are real...he is not worrying about nothing. I am trying hard to have hope that some resolution comes soon. At least the deadlines he faced this week will be over by tonight.
7)
Bubba
--poor bubba. I have nothing to say about him...he just keeps going, keeps a smile on his face, and is low maintenance enough that I could almost forget about him at times. (yikes!) Do you have one of those?? I hope that when the craziness of this weekend is over--I get some serious snuggle time with my favorite little man.
I'm realizing as I write that the common denominator in my list is how much I want things to be over...my talk, the performances this weekend, the theater set up, my daughter's illness, hubby's stress, the weather. Isn't that terrible? Living life wishing things away. Man, I need to stop and be in the moment. Enjoy what the moments bring. Be present at the funeral today, and celebrate Michelle's life, without thinking about all the table decorations that need to happen right afterwards. Be present and enjoy my kids performances tonight and tomorrow night, without worrying about the Mary talk on Sunday. Grab a few minutes of quality time with Bubba and Hubby.
Even the
"crafty"
(heehee) stuff--Pickle's pain, Hubby's stress, the car issues, the weather...I think I need to be present in those things too. What is there to embrace, to give thanks for, to learn in the midst of it all?
As usual, rattling off my list-o-life has given me some insight...stop wishing things were over!
Be present in each moment, in each season. Embrace the things that come my way. As we learn from Mary, God has a plan. He is in control, and nothing is impossible with Him.