It's Friday again. I love Fridays, but not how quickly they come! Boy, the weeks fly!
I am finding the days very full lately. I find myself running out of steam a bit. I think I'm using more mental energy than my old brain can handle. And I find myself not getting around to reading blogs or taking much time myself to blog--which I love to do.
Here are a few of the mental activities I'm guessing are a big part:
1)
24/24 challenge
. I am striving to spend an hour a day with God for 24 days. This sounded easier than it turns out to be, and I think I was wrong about how much time I actually do spend with God. Such a valuable venture--I'm sticking it out and not obsessing over the two saturdays and one thursday that I barely got 5 minutes with God. I hope to post more on all that soon.
2) New kids program at church: Two weeks ago we kicked off our fall schedule at church which included a new format for our kids. It takes more weekly planning and coordination on my part--which I enjoy--but am finding myself working Saturdays some, and stretching some brain muscles on making it all work. I love what we are doing though--and am sure God led me to it.
3) Weight Watchers: My mom and sis have had great success with weight watchers. With my sister trying to take off baby pounds again, they are re-upping their efforts and I have decided to join them. I would like to get rid of the 12 pounds that showed up over the last few months. Uninvited, I might add. And my normal ways of shedding the results of an overindulgent week or two weren't working. Those pounds were not taking the hint and inviting others to come and hang out with them. I think it's an age thing, which is not encouraging.
I lost three pounds during week one
. I am not used to thinking about everything I eat, or even thinking about eating in general very much. So, it's a mental shift that I am sure is taking it's toll on my brain power. Cause now my eating involves math. Too bad you don't burn calories doing math and keeping track of what you eat!
4) New Bible Study: Started
Me, Myself and Lies
by Jennifer Rothschild in our women's Bible Study. It is a "thought closet makeover". I am working to listen to the things I say to myself, my internal soundtrack. It's interesting, but you can imagine that my soundtrack is quite wordy!
5) Medical Stuff: Hubby's back, Pickle's migraines, my neck stuff. Bills. Best ways to treat. What works, what doesn't. Research. Appointments. Watching them suffer. Exhausting.
So what? I have plenty to think about. Who doesn't? I just need to keep relying on God to help me spend my mental energy on things that are most important. Trust Him to supply all my needs as He promises to. And listen to Him, so He can guide and shape and teach me the way to go.
It's been unseasonably warm here in CO--hit 90 a few times recently. However, there is a crispness to the morning air that is reminding me fall really is coming. I can see yellow on the mountains as the Aspens begin to turn. It's rejuvenating to think of a new season--my favorite at that. I think I'll try to steal some time today to fall-i-fy my home. Light an apple candle and let it's smell remind me that seasons come and go, but God's faithfulness remains.
And now I'm off to get Pickle to the doctor--hoping this three day migraine does not prevent her from going to her first homecoming tomorrow!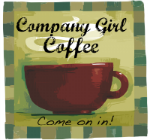 Linking up with the Company Girls today!