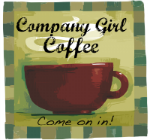 Hi company girls! I just have time for a quick post cause I'm out the door soon to attend my second day of the
Willow Creek Global Leadership Summit
--simulcast here in CO. Day one was really, really good. Hope my brain can fit some more good stuff in today.
This has been a wonderful week. On Monday
I went to Waterworld
with the youth group. We had a great time, and yes, I got flushed. Tuesday was my only day in the church office this week.
Wednesday was the highlight of the week (and Waterworld is hard to beat) because
my niece Maisie was born!
She is the cutest little thing! My sister Kerry
lost Sadie
almost a year and a half ago--so to have a healthy baby girl in our arms is nothing we take for granted.
Yesterday I joined in a
blog-hop with Robin
--there is still time to join in if you'd like!
That brings me to the Leadership thingy--which I really need to go to right now! Thanks for stopping by!