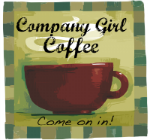 Another week already? Whether they are calm and relaxing, or busy and bustling, or emotionally exhausting--these weeks fly by just as quickly it seems. Dontcha think?
My week has been a bit of the
emotionally-tiring
type...for no big reasons, just little ones. I have
a dumb headache
I deal with sometimes and it's been hanging on for over a week now. Not debilitating, just draining. Really draining. We had a
scare last Friday night
with our daughter. Read about it
here
. (All is more than OK now). There's been some stuff going on at work that has been emotionally trying. Hubby's work too. And
Haiti
--ohmy. I've been following along with the
blog of a friend's friend
who lives there. Again, OHMY. On top of that all--
I am weaning off of
my medication
. Please, please, please pray that goes OK.
I have also been trying to cut WAY down on my diet coke. After a rough morning on Wednesday, hubby wisely suggested I don't wean off my
meds
and caffiene at the same time. Aah...good thinking, babe.
Yet,
there has been plenty of good to counteract the tiring
. Had a great talk with my hubby on Saturday that was both emotional and overdue--so glad we found time for that. I decided to be intentional about celebrating all the gifts in my life and determined to
document 1000 gifts to be thankful for
. Had a great meeting with my children's ministry team--decided on a few things and solved a tough issue. We celebrated
my mom's birthday
. Some kind friends offered to take something off of my plate. My quiet times have been meaningful.
Oh, and I am reading
Same Kind of Different as Me
and joining in on the
Bloom Book Club
with Angie at
Bring the Rain
. I'm excited! I've been wanting to read more (you know, actual words on pages) and thought the accountability would be good for me. Just got the book and need to read 100 pages by Sunday.
And for the weekend ahead--some good things going on. Bubba has his first-ever basketball game. Pickle is so excited to be going on a jr. high retreat. She is taking three of her friends from school. We are praying that God speaks to hearts there. I get to have coffee with
my friend Beth
--it's been too long since we could grab any one-on-one time. We have our church's annual meeting--and I'm looking forward to our new pastor casting vision for our church.
So, off we go into another weekend and week ahead! I'm so thankful that through the ups and downs and the predictable and the uncertainty--God is Good all time. I can trust Him with the ride we're on.