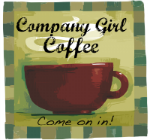 That was the theme of the 1st and 2nd grade Sunday School class I taught on the fly this Sunday after one of my teachers had to leave unexpectantly. I love the 1st and 2nd graders I got to teach. We talked about Isaiah 40:28b that says, "He will not grow tired or weary..."
The kids understood what it meant to be tired. They knew their bodies needed rest--so it was cool for them to understand that God is never tired. (I told them to remind their parents of that when they were dozing on the couch on Sunday afternoon--I'm terrible!).
Weary was a harder concept for them to understand, but the curriculum provided a helpful definition--"when your feelings are tired". I LOVE that.
And, can I tell you I had several days this past week that I could say my "feelings were tired"? Besides the regular weekly runaround,
my emotional plate was full
of this:
*
Our secretary at the church where I work resigned
due to some personal circumstances. This has not only left the rest of us with lots of odds and ends to figure out--but also brought us lots of questions we can't really answer since it's HR stuff. Draining. Plus, I have two new things happening this Sunday that I'm not ready for yet. Yikes!
*
I was subpoenaed
to testify in court against my neighbor. Seriously. She is a gal I've been reaching out to...but her life is a bit of a mess, and now I need to testify AGAINST her because I know stuff. That is super-yucky. Talking to the lawyer on the phone was stressful in and of itself! The trial is next wednesday--pray for me!
*
My hubby's work stress got so intense that he emotionally hit a low point and had to take a mental health day on Tuesday.
He was really-scary-low
. This led to a two hour conversation between his boss and I (we know each other) and another long conversation with him. I am happy to say, though, that God totally spoke to his heart and he has had a MAJOR attitude adjustment and a new perspective on his job and the people he works with. This has resulted in a significant reduction in stress.
Thank you God!
*
Pickle has been sick
since Tuesday. Weird headache and stomachache thing. I thought migraines...doctor thinks it's a virus. Poor girl. Mama's hate when their babies are sick--even if their babies are 13.
*
A really
good friend and I had to work through some stuff
--all is well, but significant emotional energy was expended. I can't help it...I care a lot about that kind of stuff.
Besides that--all has been calm. :0)
Before I sound too whiney
(too late??) I need to say there was a lot of good mixed in there too...some things came together at work in spite of me (thank you God!); my bubba had a great first basketball game, I had two great one-on-one times with friends, I enjoyed a new book, and I posted
my first 1000 gifts post
and meant every word. And I felt loved and cared for by those closest to me.
As all of the "stuff" of the week progressed,
I was comforted often by the lesson I taught those 1st and 2nd graders
. God never tires. He is never weary of listening to my concerns or doling out His abundant Grace. Even when my "feelings are tired". Even when I'm weaning off of
my medication
. Even when I'm whiney.
I'm sure that even though teaching that lesson to the kiddos was not in my plans this Sunday, it was in His. For me. A reminder of His faithfulness to my heart.
And I'm doing well, bloggies. Really. I'm not down or discouraged or even sad. My feelings are just tired. I'm looking forward to hanging with the groupies tonight, helping some friends move tomorrow and enjoying a few basketball games with my fam on Saturday. Good stuff.
"The Lord is the everlasting God,
the creator of the ends of the earth.
He will not grow tired or weary,
and his understanding no one can fathom.
He gives strength to the weary
and increases the power of the weak.
Evens youths grow tired and weary,
and young men stumble and fall;
but those who hope in the Lord
will renew their strength.
They will soar on wings like eagles;
they will run and not grow weary,
they will walk and not be faint."
Isaiah 40:28 - 31