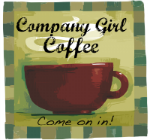 Hello dear bloggies.
First things first, it's March 12th, and I want to say happy birthday to my dear mother-in-law, Barb! I couldn't ask for a more loving or generous or kind person to be my mother-in-law. I love you Barb, and look forward to our visit next month!!
Some of you have followed my little saga of weaning off
my meds
, concerns that maybe I need to go back on them, indecision, poopy days, etc. You have all been so supportive and prayerful on my behalf--it's humbling. I appreciate the kind comments and sweet emails. Some of you have been honest with me that you don't know what to do with the whole antidepressants-for-Christians thing--but have been supportive nonetheless. Thank you. Special thanks to
the Company Girls, who I link up to on Fridays.
So, I am here to tell you today that
I am back on the little happy pills.
I saw my doctor on Tuesday and started back on Wednesday--building up to half the dose I have been on the past year. And we'll see if that will do the trick.
Here's where I am with the whole thing...my rambling thoughts on the matter:
First of all,
I believe wholeheartedly that some people's brain chemicals are such that medication is needed
to help regulate the chemicals needed for proper functioning. I have close loved ones in this category. It has nothing to do with their faith, or copping out, or an unwillingness to push through a tough time. And I am very grateful for the medication that helps them live life to the full.
Where I was struggling was whether or not I was one of those people
. I was surprised when my counsellor, who was helping us through a crisis in our lives, noticed I was depressed. I am familiar enough with depression in others, I was surprised I hadn't noticed it in myself. But she, and my doctor were of the opinion that my depression was circumstantial, and with proper treatment my brain would heal from it. We thought 6 months to a year would do the trick. At the six month mark, I was dealing with
the recent death of my precious niece Sadie
, and so doc and I decided to wait. I had no doubt at the one year mark I would be fine. I mean,
I had some dark seasons before, and I never needed medication.
So somewhere around the one year mark--I started weaning off. I think I finished my pills sometime in January.
It took a little while, but
the cranky came
. The emotional overreaction to minor things. The fragility. Some trouble sleeping. Stink--I knew these weren't good signs. But I didn't want to run back to the doctor. I wanted to give it some time...see how it went. I wasn't in crisis. I was functioning.
I prayed for wisdom.
I had lots of better days mixed in...but the consistent return of the poopy was evident. Then
an unexpected email
(from a friend from the past who has been in the same place emotionally as me) felt sent from God--and I knew He was telling me it was OK. I wasn't looking for a sign, but I knew it was one from Above.
I felt God was saying--stop gritting your teeth through your days, Dawn and talk to the doctor.
This was confirmed by my family as well (although I appreciate how they patiently let me come to my own conclusion).
Doc says that the medical research is still being done as to why, but the brain learns to make less brain chemicals sometimes. I had told him of the seasons of depression I think I have had in the past. At age 20. Right after I got married. After the birth of my oldest. And a few more. I always got through it.
God rescued me from the darkness each time.
The doc told me that my personality type of gutting through stuff is the worst for this--because each time (somehow) my brain was learning a pattern of making less seratonin and other good stuff. And it seems that the pattern seems too ingrained--I'm not bouncing back this time.
Do I think I would be OK without the meds? Probably.
My dependence on God is real, and so is His provision. I can function this way. The way it feels to me is that as long as everything goes relatively well in my day--I'm fine. But the emotional apple cart gets toppled way too easily, and it takes an incredible amount of energy to keep myself on track.
With the meds--I have enough of the good brain stuff to be able to handle the inevitable ups and downs of a day without having to exhaust myself trying to keep it together.
That leaves more emotional energy for my family, for my housework, for others God brings to my life, for the ministry He's called me to.
As my email friend mentioned to me--if I had a thyroid problem, I'd take the meds to regulate that. Why not regulate my brain chemistry? She's right. I don't know why there is a stigma with brain chemistry over any other body needs.
I didn't think I bought into the stigma--but when it came to my own needs, I bought into the idea that I shouldn't need this stuff.
(By the way, I am doing some reflection on "I should/shouldn't" but that's a post for another day).
You know what it is? It's pride.
Honestly, I would rather not "need" something
. But, who am I kidding? I need everyday. I need Help. Pride says I am independent, but I'm not. I am very dependent--on God. Without Him I am nothing. He is my Rescuer.
If He rescues me this time through medication--I'll take it.
If any of you are still reading this verbal vomit, I thank you. As I've said before, I'm nothing if not wordy. :0)
Raise your coffee mug with me and toast to no more posts entitled
poopy
!